Remember when you were in school and the first assignment after returning from summer break was to write an essay about what you did during those precious days?  If only I was in 3rd grade again!  This summer has been so busy and fun, I would fill those two pages in no time, without double spacing!
What an amazing summer with lots of new opportunities for The Springmans! We  just completed (for us) a record breaking 23 performances in 23 days!  Many more adventures await!
Here are some highlights from the past few weeks:
Langley's Canada Day Celebration at the Langley Events Center – great crowds came out to celebrate Canada 150, it really was a sea of red shirts!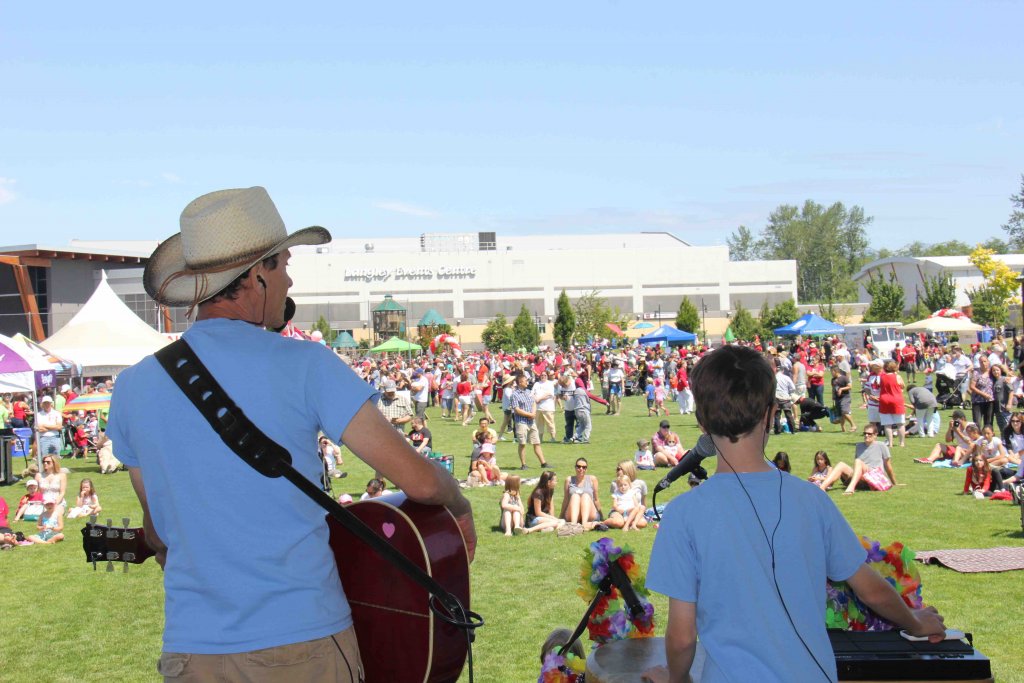 Then a short trip across the border for a concert in Blaine, Washington to help our American friends celebrate the 4th of July.  Wow!  Do they ever put on an awesome fireworks display!  It was incredible.
Whistler Children's Festival was amazing!  A jam packed weekend had us playing in several locations throughout the village where we had tourists and locals alike joining us on extra percussion instruments.
Sarah mastered the art of singing and clapping while hula hooping!  We also led 12 percussion workshops for the festival and loved letting kids be creative with all types of instruments.  After trying out all of our drums, congos, djembes, shakers, tamborines, drum-kit, etc, we demonstrated how to make music on simple household items like cups and bowls (the recycling bin drum was a hit, uh, literally!).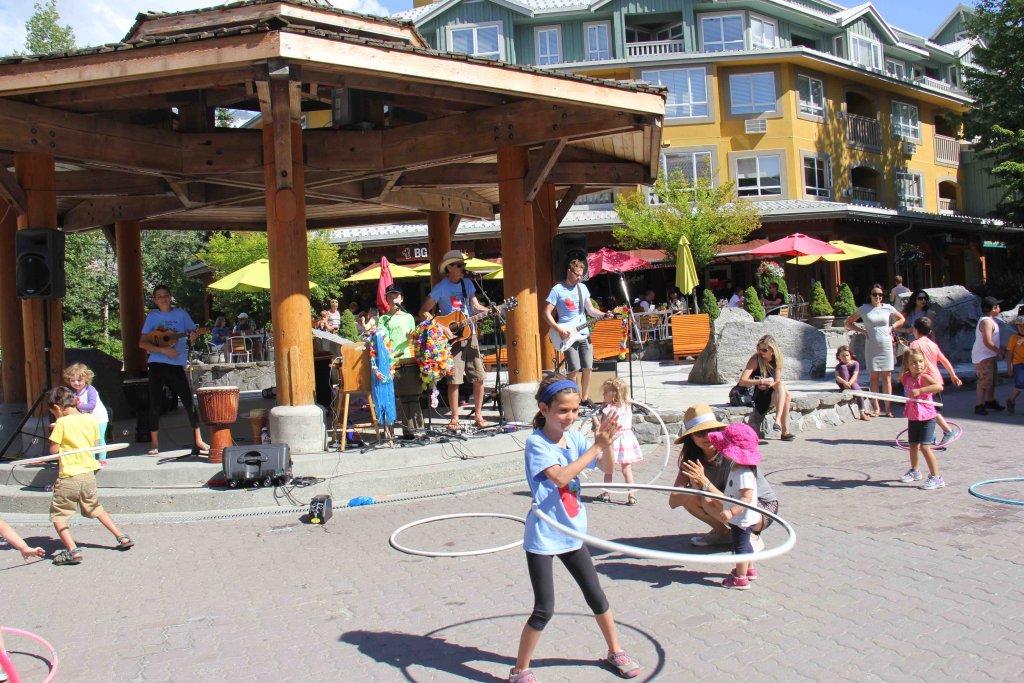 Aldergrove Fair Days dawned bright and sunny in our home town!  It was pretty funny to perform and enjoy a fair on the same field where we had watched Ryan play baseball all spring!
Another new adventure for us this year was leading a 5 day music camp!  We had a great group of kids and accomplished so much in 5 days- vocal coaching, song writing, mic technique and stage presence, choreography, as well as lessons on ukulele, guitars and drums.  Our kids really stepped into the teaching role and had an awesome rapport with their peers.  On the last day all of the kids put on a show for their parents and we were so proud of them!
We have already done several shows for Prospera Cinema Under the Stars events and have more coming up on the schedule – August 25!  It's really fun entertaining everyone as families arrive early for the movie to stake out a good blanket spot!  The kids all come up to the front and dance with Emma, Sarah, and Jacob.  Music and a movie= perfect night!
Let's see….we also played five nights in a row at the Fun In The Park event in North Delta, BC.  Crafts, games, food, skits, and music (The Springmans!) was on the menu with over 400 kids and their parents!
We also made a quick visit out to Camp Hope to play for a number of children's groups at the SDA Camp Meeting which attracts close to 10,000 people!  It is such a beautiful camp right at the base of a mountain.  It even had its own waterfall.
Vancouver Island is always a win for our family (It could also be because our best friends live there…..) and this summer proved so again.  In-between catching up with friends, we performed in front of the world famous sand sculpture competition in Parksville, for a family concert in the park event, Sunday morning church services, and the huge Craig Street Market.
Hmm, I think I've stumbled across a new health fad: join our band and get fit, simply by running around to all of the gigs!  I'm sure it will sell millions….
Even though a few leaves are already starting to fall, and we've been enjoying many a meal from our garden harvest, we still have some great summer concerts lined up.  Next up is a weekend on beautiful (seriously, you should come – it is SO nice!) Vashon Island in Washington state.  We will be helping out with a community church service and playing a beach-side house concert.
After that, we're headed North, to Alaska!  ("Now salmon, I'm talking to you here – I know last year you were a bit shy, and seemed hesitant to check out our bait.  But this year I've got big plans for getting closer.  I suggest you get really, really close to my hook.  Please?")
Also! Don't forget to come out to the Squamish Children's Festival on Sunday Sept. 3rd where we will be headlining the event.  It will be a fantastic way to wrap up another awesome summer!  It's an A Plus!
What have you been up to this summer? Did you hear us in concert? We'd love to hear from you on our Facebook page!