Oh Molokai, was it truly only a month ago?  Any traveler knows that as soon as you step on a plane you are in for a time warp sensation.  Not simply the scientific facts of time zone change and jet lag.  More like that odd feeling that the days are zipping past, yet it feels like home was eons ago.
Traveling to the tiny Hawaiian Island of Molokai truly felt like stepping back in time.  To a somehow simpler time, before stoplights (not a single one on the whole Island!) and mass malls.  Who remembers the day when stores were all closed on Sunday? Did you grow up leaving your home unlocked, and your car keys in the ignition?  If you've had the opportunity to visit delightful Molokai, come along as I re-live The Springman's recent visit there!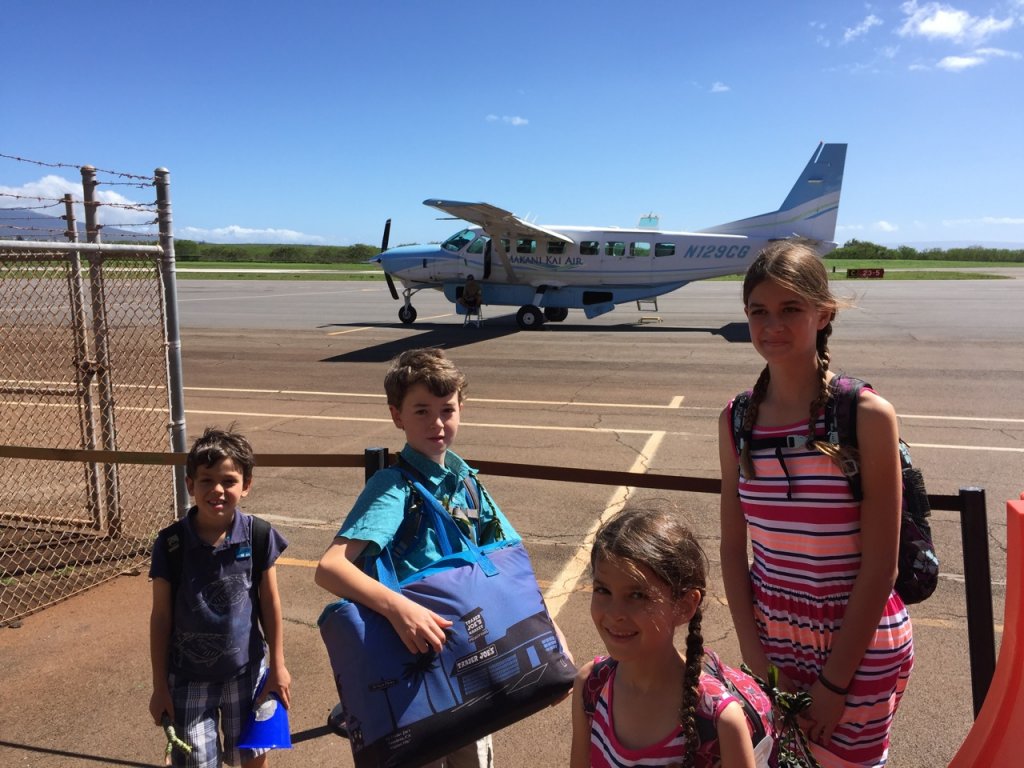 As Molokai was our first stop on our Hawaiian tour we flew from Vancouver to Honolulu, Oahu. We arrived late, and had several hours before our connecting flight to Molokai. If you are a concerned friend or relative- we slept that night in a spacious room with plenty of amenities, and fed the kids a nutritionally balanced meal. If you are an adventure traveller, or a fellow missionary- we slept in the airport,  used the water fountain to finger brush our teeth, and shared a few Clif bars for dinner.  Often on tour, you gotta do what you gotta do!
Our early morning flight to Molokai was short and sweet. We got our taste of the Island flying over and seeing vast open fields with very few buildings.  We've seen a few baggage claims in our years, but this one was our favorite.  More bench than conveyer belt, bags were hand carried and put under a tiny "baggage claim" sign. Love it!
Pastor Randy met us and explained that our van was in the parking lot- everyone leaves the keys in their cars! We went straight to church and had a great time sharing in ministry there.  After services we were told that the stores are closed on Sunday. They loaded us up with some canned goods from the church pantry and the adventure continued.  Our gracious hosts David and Judy gave us a lovely home to use for the week. In true "Friendly Isle" style, they kept showering us with blessings.  Within a few minutes of meeting, they had lent us a home with a stunning ocean view, upgraded our van to a luxury car, and taken us out for pizza!  They also own an ice cream store (the only one) and gave us a week's free pass.  Was it only last night we slept on an airport bench?
They say it only takes about three hours to see the whole Island.  We were fortunate to have a week to explore.  While we enjoyed the more touristy sites such as the ancient fish farms and learning about Father Damien's leprosy colony, it was the people of Molokai that left an impression.  With just over 7000 people, you quickly start recognizing faces at the grocery store (there are only two!). If you recognize a face, you're bound to get a hug!  With the largest population of Native Hawaiians of all the Islands, these are a people who are fiercely protective of their home, and way of life.  As one of the last Islands to remain truly Hawaiian, it is understandable. But while they may be closed to expanding tourism, they embraced us (literally) with the most loving and genuine hospitality.  Coming here, you have to be prepared to slow down, and always make time to talk story with the locals.
We visit a lot of churches.  We've witnessed a lot of 'meet and greets'.  They range from an awkward hand shake with a pew stranger, to a heartfelt hello from old friends.  Nothing we've seen prepared us for meet and greet on Molokai.  That is some serious hugging!  Not fake, side hugs that us Mainlanders are famous for.  You haven't really experienced meet and greet until you've been Molokai met!
We had a busy week with 2 churches, as well as a few public school performances. Then we performed at a fantastic Halloween event where more than 10 percent of the Island's population came!  We snorkeled, hunted for puka shells, and frequented a 3 mile long beach, where we were often the only ones!
Flying to Maui on a 9 seater single prop plane was a great conclusion to our first ever Molokai experience.  Flying low over the Island we spotted many landmarks-the store!  the gas station! We're pretty sure we even saw new friends sending us some extra hugs.
We'd sleep on an airport bench to get to you any day, Molokai!