Hi!  Mama Springman here, very excited about booking a coveted interview with singing/dancing sensation Sarah Avery Springman, of The Springmans!  Read on to enjoy this candid, exclusive Christmas interview!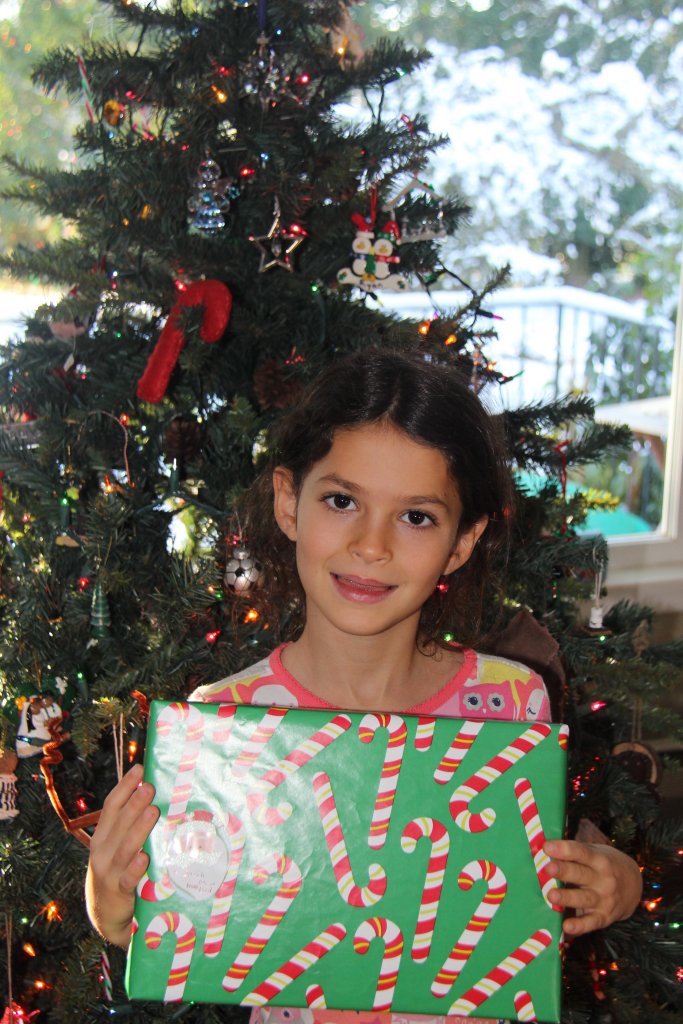 Hi Sarah, thanks for joining me today! I can't imagine anyone not knowing you already, but why don't you go ahead and introduce yourself.
Hi! I'm Sarah Springman, I am 8 years old and play ukulele, and sing and dance in my family band.
Only 2 more sleeps until Christmas!  What are you most excited about?
I'm excited about everything!
What are some of your favorite family traditions?
Going to my grandparents on Christmas Eve and having a fondue dinner.  We call it 'cooking things on sticks'!  One night during the season we get to sleep out in the living room and watch It's A Wonderful Life.  I like when they are at the high school dance and jump into the swimming pool! Every year we make gingerbread houses with the whole family- we each get to decorate our own small one.
What is your favorite Christmas movie to watch?
I like Frosty the Snowman!  We also like to watch Miracle on 34th Street.
Do you have some Christmas books you enjoy?
Of course I like, How the Grinch Stole Christmas!  I also like one called Mortimer's Christmas Manger.  It is about a mouse that doesn't like living in his small hole so he moves into a nativity set in the house!
Does your family have a nativity set?
Yes!  Mom has a special tiny one, we have a Playmobil one with a little lantern that lights up, and a rubber ducky nativity in the tub!
Does a mouse live in any of them?
Hmm, no.
What are the best things to eat at Christmas time?
Candy canes, snow, coconut whipped cream chocolates, gingerbread cookies and lots and lots and lots of mini oranges! We bake lots of cookies too.  On Christmas morning my mom makes a bread with cinnamon and fruit and we have a yummy fruit platter too.
What else do you like to do around Christmas time?
This year Jacob and I had the idea to make a craft store.  We set up a workshop in the playroom and made a bunch of crafts.  There were snowflake ornaments, popsicle stick reindeer and I sewed little baby mittens that hang on the tree.  When friends come over they got to go shopping in our store and buy gifts for others.  It was super fun!  Ryan joined in and made some really cool canvas crafts too.
Do you do anything special for Advent?
Every night we open advent calendars.  We have 4 different ones that we rotate.  My favorite one has 24 mini books, once we read the book we get to hang it on a little tree.
Best ever Christmas song?
Jingle Bells and Silent Night are tied!  We did a music video for Silent Night- we carried our sofa outside and put it in the snow!  We were filming at night so it was dark and chilly.  The microphone stopped working it was so cold!  We went inside for tea and snacks by the fire, and then went back out to finish the video!
Wow!  It sounds like you have a lot of fun things you do with your family for Christmas- thanks for sharing with us!  What is the most important thing for you about Christmas Sarah?
When Jesus was born in the stable!  He was a King but didn't even have a bed to sleep in and had to sleep in a manger. That's what Christmas is all about, Charlie Brown.  Merry Christmas everyone!